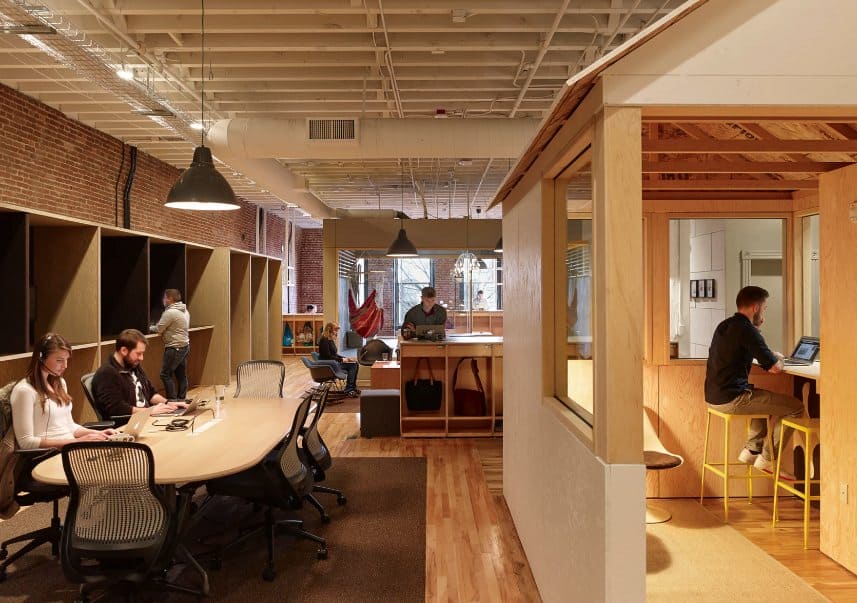 The Movember Foundation is a leading charity changing the face of men's health worldwide, tacking prostate and testicular cancer alongside suicide prevention. Prolific in November, and with a determined aim to reduce the number of men dying prematurely by 25% by 2030, this ambitious organisation needed a workspace to fuel creativity and life-changing solutions.
Interior design agency CCWS Interiors obviously made a significant impact; this was their second project for The Movember Foundation having previously transformed their 6,000 square foot space in just 6 weeks.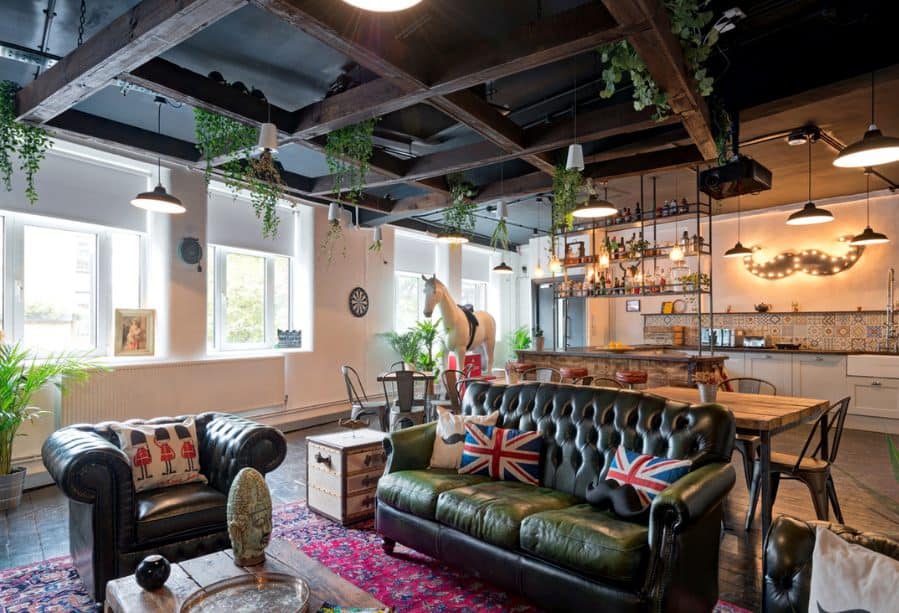 Capturing Pacific Northwest style, the office encapsulates a personal warmth that makes you feel like you've just been welcomed in to a friend's house. Edging towards a more masculine style, the design influence is rugged and hardwearing; worn leather, forest hues and solid textures adorn every surface. Throw in a dart board, several Marshall loudspeakers and a fully tuned guitar and you'd be forgiven for thinking you'd walked in to a British bachelor pad.
Based in Shoreditch, the design brief specified an "environment that better matched the people, brand and its culture." Functionality was essential, so you'll find plenty of flexible workspaces, meeting booths and hot desks. The side you don't see is how effortlessly this has been combined to encourage collaboration throughout the workspace.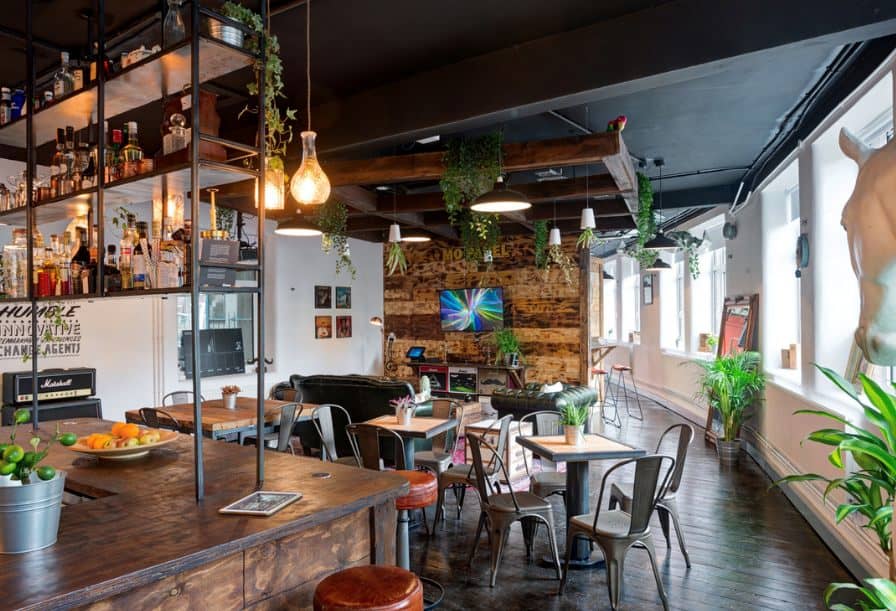 The majority of new refurbishment installations were behind the scenes; Landlord Cat-A works with new engineering HVAC and MEP systems to allow the charity to take root and focus on their raison d'etre. Aesthetically CCWS Interiors focused on sustainable design, utilising reclaimed upcycled furniture, including an old barn door, and organic materials such as wood and leafy foliage to ensure workers are benefitting from the effects of Salutogenesis.
It's a socially welcoming space. Instead of an imposing reception desk, the breakout area is used to welcome visitors and the kitchen is where people catch up throughout the day as an impromptu meeting area.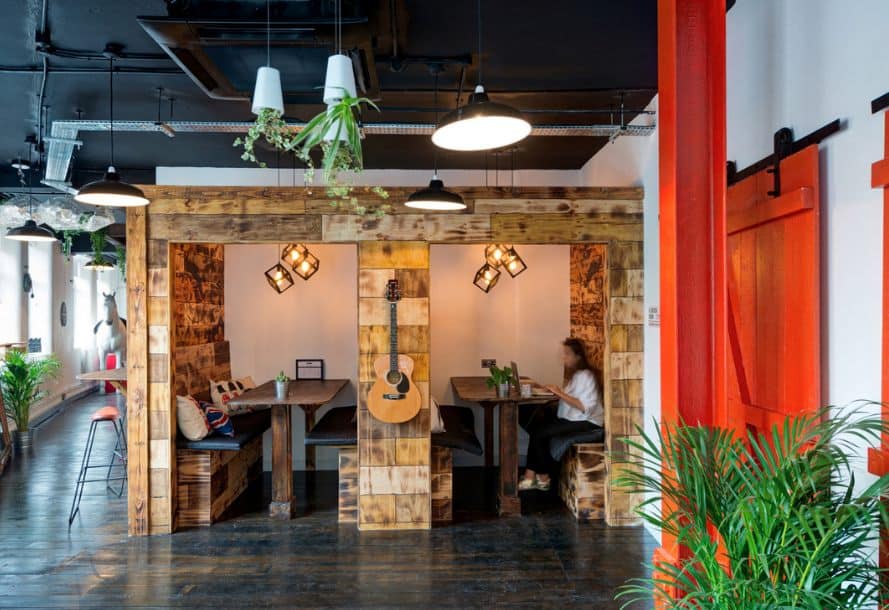 Thanks to the charity's global reach, high-speed technology was an integral part of the design process which is why there is a multitude of video-conferencing sweet spots with wireless docking points to ensure maximum connectivity.
Agile working is clearly favourable as under desk storage was banned, offering an alternative of personal lockers that helped encourage clean-desk co-working. A sense of humour is highlighted with the meeting room themes, paying homage to famous moustache-wearers Freddie Mercury, Albert Einstein and cheeky chappy Charlie Chaplin.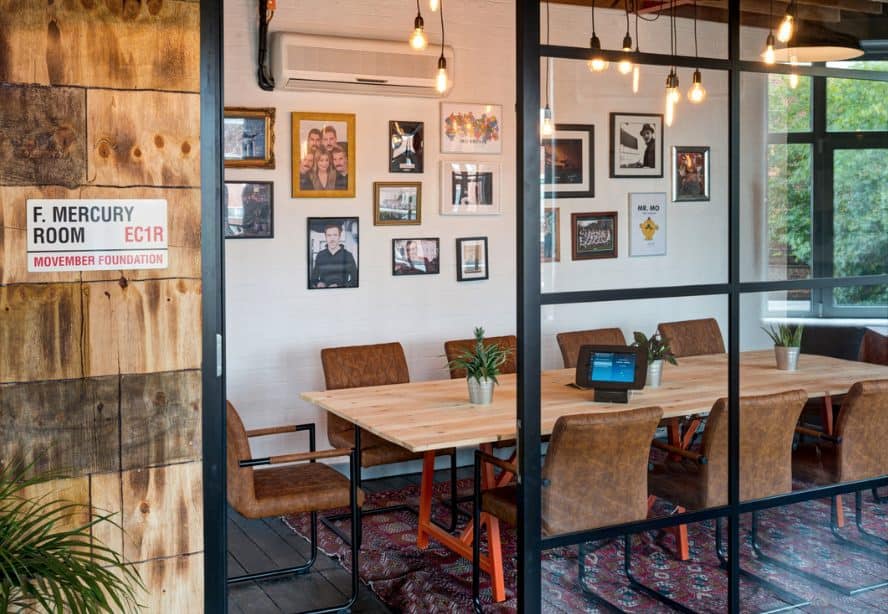 Brimming with character, The Movember Foundation head office has been expertly crafted to go back to basics. With stripped back warehouse features, there's nothing overtly flashy or opulent about this office, simply beautifully designed, comfortable furniture, providing a suitable workspace for people to come together and focus on addressing an incredibly serious problem for men worldwide.
For further office design inspiration, check out this review of Sky Central's London headquarters plus these 5 inspirational office design from around the globe. Alternatively explore the 12 elements of a thriving workplace and learn more about why inclusive office design is so important.