Visually stimulating, WeWork Galaxy in Bengaluru provides a captivating workspace that unites the professional community and reflects India's vibrantly colourful culture.
"At WeWork, we see ourselves as a global company with a local playbook. Whether we're designing a WeWork in Bengaluru or Sao Paulo – we focus on creating opportunities for community and collaboration through good design" says Francois Gramoli, WeWork's Creative Director for India.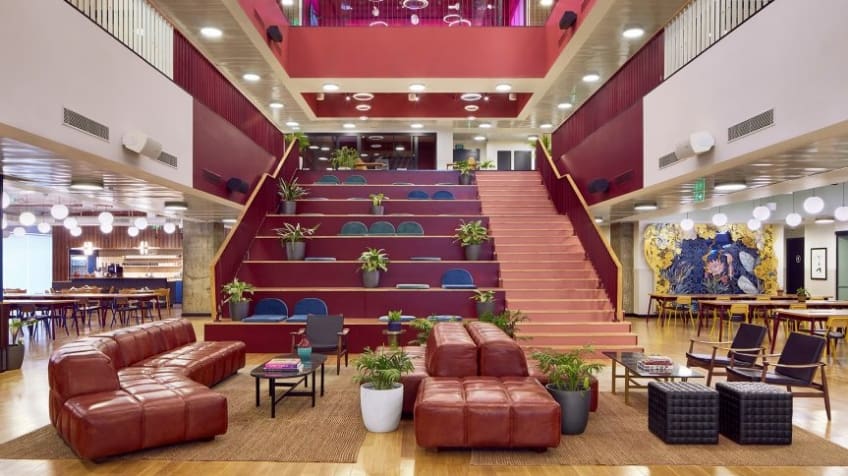 Previously a movie theatre in the 1970's, one of the building's main attractions was the abundance of space. "Once we took over the building and saw the five-storey ground floor atrium space, we could see the potential" says Gramoli. By contrast, a potential challenge for the WeWork team was that natural daylight is usually a staple of coworking spaces – something movie theatres normally reject. To ensure the working environment was suitably well-lit, the design team added "sculptural lighting elements" that complemented the surrounding spaces, including an array of spotlights, lamps, ceiling lamps and neon signs.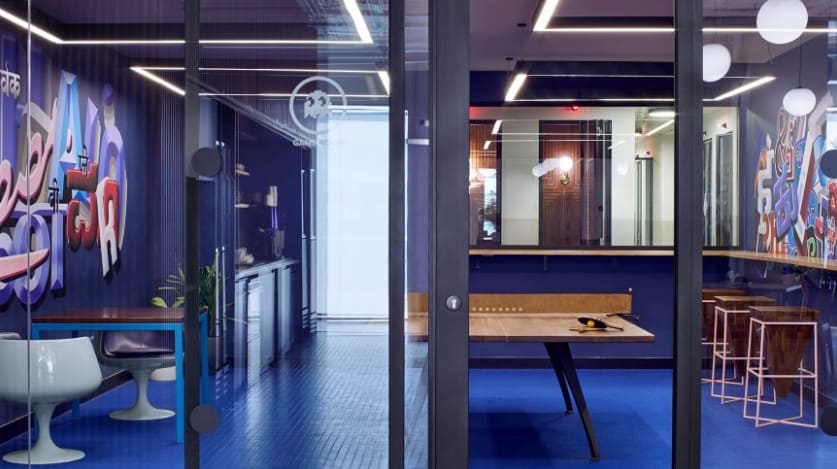 Furthermore, the coworking conglomerate is keen to ensure that WeWork's design aesthetics pay homage to its location's heritage; a "lightweight LED ring structure" decorated with silk provides lighting whilst simultaneously referencing India's infamous kite-making festivals and the wheel of India.
In Neil Usher's book 'The Elemental Workplace' he suggests that there are 12 elements of a thriving workplace. One of these elements is sense. Usher says, "A good workplace should consider, and satisfy, all of our five basic senses." He suggests that textured furnishings or a pleasant scent are just some of the ways that an environment can be enhanced to stimulate workers. Throughout the building there is a mixture of materials, artwork and furniture design to truly invigorate the senses.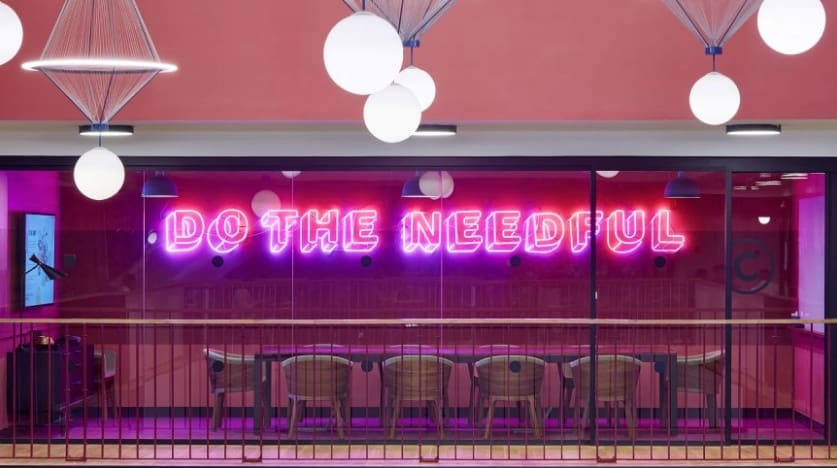 The space can accommodate over 2,000 workers and offers hot desking, dedicated desks or private noise-controlled offices. What's more, members can benefit from direct access to a range of services including IT support, payment processing, payroll, legal services and healthcare. To encourage collaboration that goes beyond professional networking, WeWork Galaxy hosts weekly happy hours and networking events; research conducted by WeWork found that over 50% of its members are have conducted some form of business together.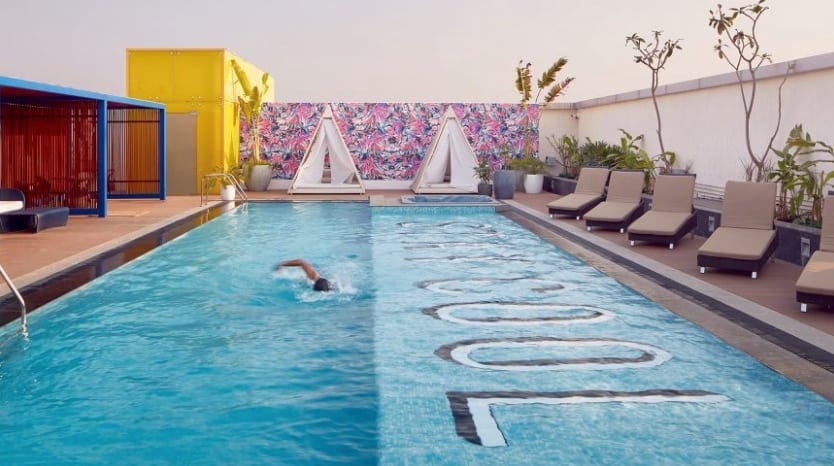 For those seeking a place to recharge and rejuvenate, they can escape to the roof terrace pool. Architects and designers have clearly placed emphasis on salutogenic design as it not only looks like a tropical retreat but it enables exercise, reintroduces the natural elements like sunshine which boosts Vitamin D levels, and provides access to plants and greenery which is important as biophilia significantly impacts human behaviour. The rooftop area also boasts a jacuzzi, bar and cabanas.
Gramoli is keen to draw people to innovative coworking spaces that provide the optimum working environment. "People want to work on projects they're passionate about in an energetic environment where others are also working hard to bring their ideas to life… By offering a collaborative community where members can feel safe in both success and failure, we hope to attract the entrepreneurs and innovators of India so that they can build the next great companies."
For further design insights, check out how HR and office design are influencing the workspace and an interview with Patrick Wilding, Senior Interior Architect at CBRE.