Designed by the renowned Axis Architecture, this project aimed to create a modern and collaborative workspace in Dublin for one of the world's largest financial services organisations. In collaboration with SIG Workplace, a leading provider of innovative interior solutions, Workagile successfully supplied their Huddlebox Original tiered seating and Nimble folding tables to enhance team collaboration and facilitate effective training sessions in the new auditorium and training spaces. This case study explores the partnership between Workagile and SIG Workplace, highlighting the solutions provided and their impact on the financial institution's workspace.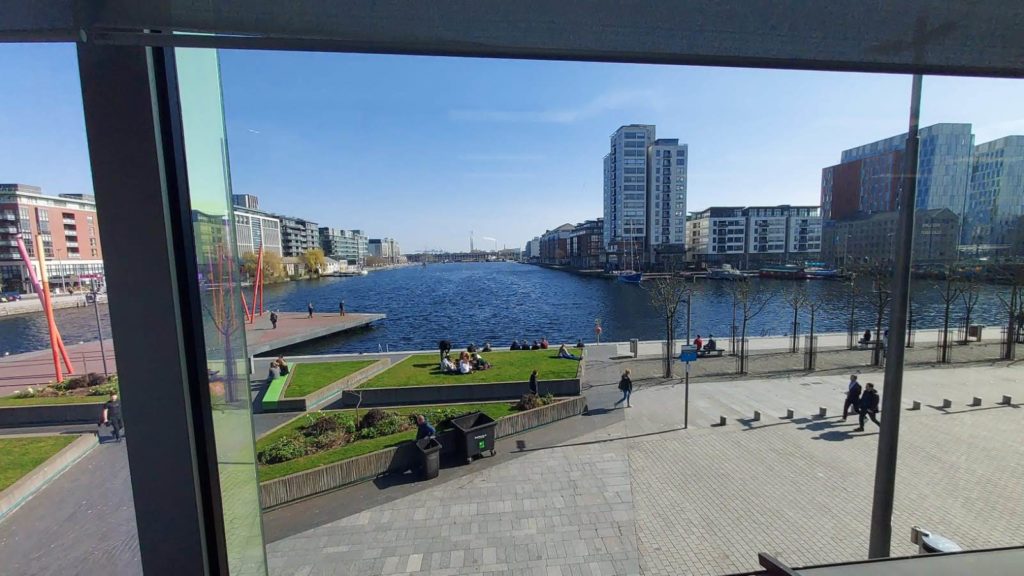 Collaboration Solutions Provided
Huddlebox Original Tiered Seating: Workagile supplied Huddlebox tiered seating for the organisation's auditorium space – Huddlebox Original is a versatile tiered seating solution that combines ultimate flexibility and comfort, providing an ideal environment for effective team collaboration. The tiered design also allows for clear sightlines when used in presentations, enabling better engagement. Huddlebox seating also incorporates power outlets and other accessories, promoting seamless connectivity and productivity.
Nimble Folding Tables: Workagile also supplied their Nimble folding tables, which were utilised in financial  training rooms. The Nimble folding tables are designed to be easily folded and stored when not in use, optimising space utilisation, and allowing trainers and participants to configure the space according to their specific needs. Alternatively to being stored, the optional writable tabletop finish means that folded tables can also be used as presentation boards, providing greater flexibility to users. The tables' mobility and lightweight design enhance the efficiency of setting up and rearranging the training area.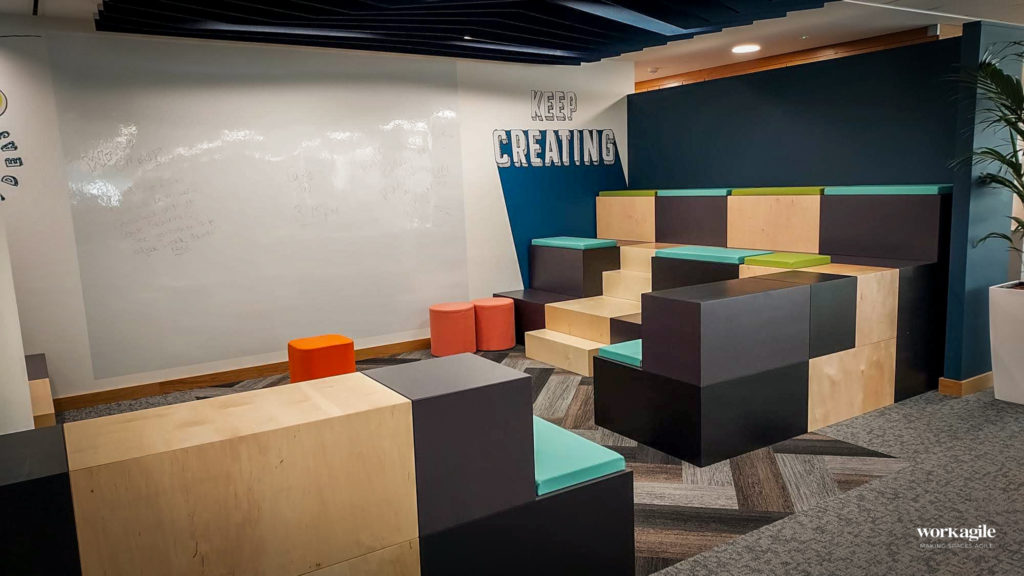 Workagile worked closely with Laura McLoughlin, the account manager for the project at SIG Workplace, and Axis Architecture to ensure the seamless integration of the Huddlebox tiered seating and Nimble folding tables into the project. The implementation process involved careful planning and coordination to meet the project's timelines and specifications. The Workagile team provided technical expertise and support throughout the installation process, ensuring that their solutions were seamlessly integrated into the workspace.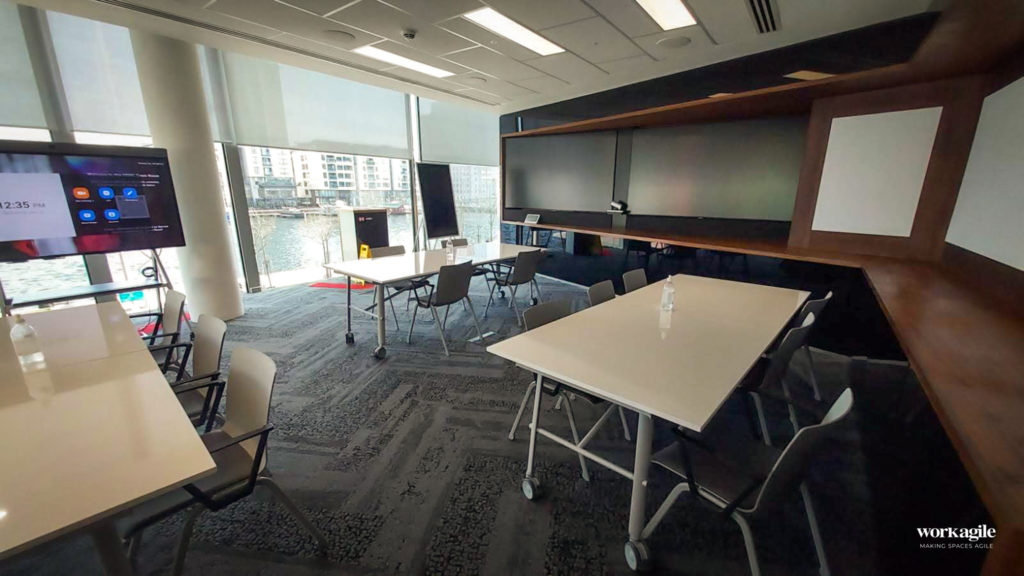 The collaboration solutions significantly improved the global financial institution's Dublin workspace. Huddlebox Original facilitated engaging presentations and discussions, promoting better communication and idea sharing. Nimble folding tables improved the flexibility of training rooms, allowing easy configuration and creation of dynamic learning environments. Their mobility and multifunctionality streamlined setup time, with the compact folding design allowing efficient space utilisation.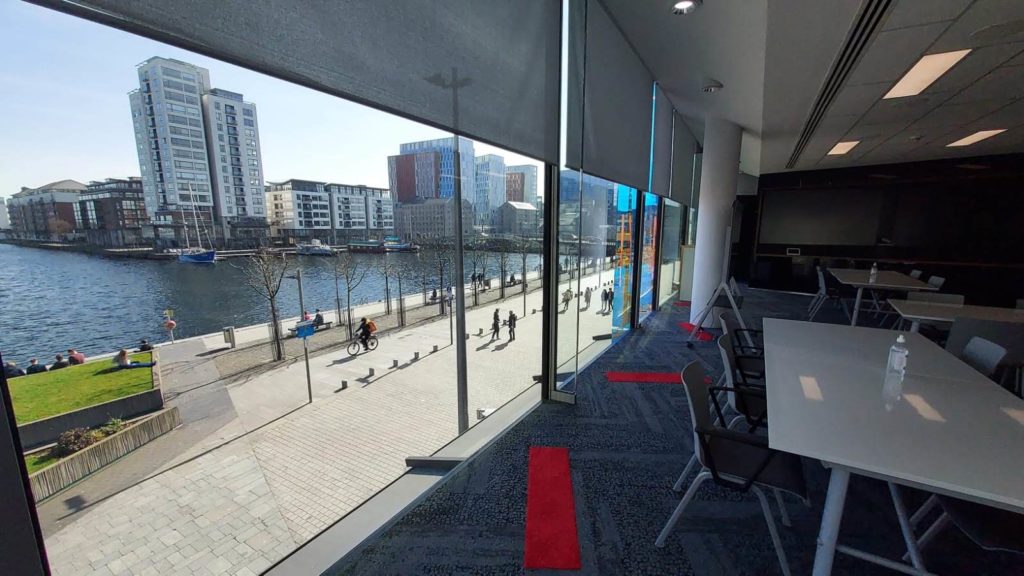 The successful partnership between Workagile, SIG Workplace, and Axis Architecture transformed the organisation's workspace. This project highlights the importance of effective partnerships and selecting suitable flexible furniture solutions that create effective and inspiring work environments. Overall, the implementation of Workagile's collaborative solutions has helped to transform the workspace into a modern, collaborative, and versatile environment, aligning with the global financial institution's vision for teamwork, innovation, and productivity.