If you're here, it's likely because you are considering tiered/bleacher seating of some kind in your project.  You're probably asking yourself "Which is best, joinery or a modular furniture system for building tiered/bleachers seating?"
Here we want to talk about the pros and cons of building tiered seating out of joinery vs modular furniture system. There are clear advantages for each depending on your type of project.  Here, we try to unpack what might work best for you.
Advantages of a Modular Furniture System
(ie. Huddlebox, Bene Pixels, Connection Platforms, Spacestor Bleachers etc)
Cost Effective
In the long run, a modular tiered seating system will almost always be much more cost effective than joinery – where joinery may need renewed or replaced as workspaces develop, modular solutions can be reconfigured to better meet changing needs. Plus, if there is the need to change location within the building or to a new building altogether, modular systems can easily be moved, unlike joinery systems which cannot be moved once they are installed.

Time saver
With a modular furniture system, it's a huge time (and stress) saver, because you can build tiered seating out of a modular system that is pre-designed, saving a huge amount of design time and resources. Furthermore, the physical installation is much quicker as pre-built blocks or modules are delivered and assembled on site.  Overall, the installation of modular is considerably quicker than joinery furniture.
Flexible
The pandemic has forced many businesses to change, restructure and adapt to the new working style adopted by employees during the lockdown. If your business is changing, the flexibility of a modular system provides a huge benefit as you can scale up, scale down or relocate the system according to your needs.  You can also repurpose the modules easily making the installation multifunctional.
Sustainable
The modules themselves are often made from sustainable materials, but more importantly, because you can disassemble, repurpose and transport the system after installation, this makes modular furniture systems the most sustainable way to achieve tiered seating, as it extends the life-cycle of the product/installation.
Less paperwork
Modular tiered seating is completely free-standing, therefore it's classed as a furniture system and as such is not subject to Building Regulations in most countries, however, you would need to confirm this with your local authority within your country/legalisation.  This again minimises the time involved in processing the required paperwork, and it also means you can retain the design intent originally planned.
Integrated safety
With various options from weight-tested back and side panels to seat cushioning and division solutions (eg. Planting), you can design each installation with safety in mind.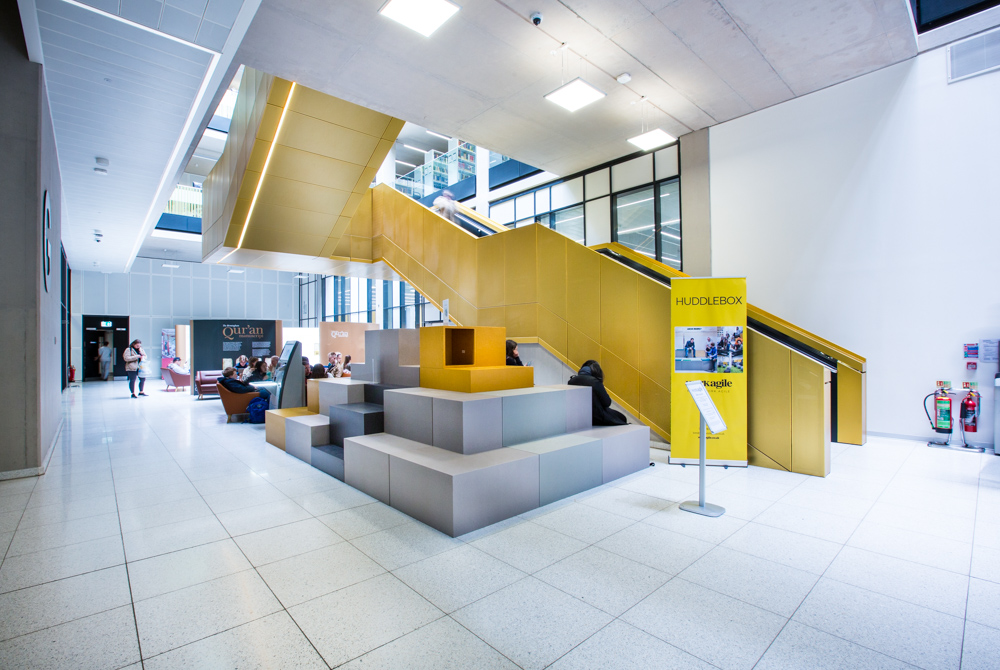 Disadvantages of a Modular Furniture System
Design restrictions
If you are wanting to achieve a specific design in terms of sizing (ie. To fit within a space) or specific style (ie. Curved or angled walls), a modular system may not be the ideal route, as you must work with standard module sizes and shapes. However, it may be worth checking what standard sizes are available as some systems have a variety of options that can help achieve your specific design and style.
Number of tiers
Modular systems are safest when limited to only a few tiers.  Our Huddlebox is one of the systems that can be stacked up to 4 tiers high (1.8 metres high) which is more than most of the modular systems out there, but if you're wanting more than that for eg. Integration into a staircase, then joinery would be the best way to go.
Read our project on Building a strong brand identity in the workspace to see the highest (1.8 meters high) Huddlebox configuration the Workagile team has built so far.
Sometimes more expensive
For the more basic design styles, a modular system can sometimes work out more expensive up-front, so consider joinery if you're happy with a basic design and working to a low budget. However, this has to be weighed up with time and resources spent in design and installation, and also flexibility and sustainability in the future, to truly gauge whether it really is cheaper overall.
Advantages of Joinery
Customisation
Joinery furniture is bespoke by definition, so if you have a project that requires specific sizing, angles, rounded corners, integration, accessories etc, then joinery is a great option to give you that freedom of design.
Cheaper Initially
If your project is going to be a one-off, fixed installation that will remain in place forever, the up-front cost of Joinery can often be less expensive.  This is great if you are working to a tight budget but still want to benefit from the collaborative functionality of tiered seating for your project.
Design Aesthetic
Joinery is very design-led where you can create clean lines, surfaces and formed joints and connections, leading to a premium design aesthetic that is appealing to many project leaders.  However, this does need to be balanced with cost because as we all know the nicer something looks, in most cases the more expensive it will be!
Fixed in place
When you build out of joinery, as it's a custom design, the whole installation will be fixed down, together and into place.  This can have advantages from a health & safety and wear/tear point of view that can make this a practical solution.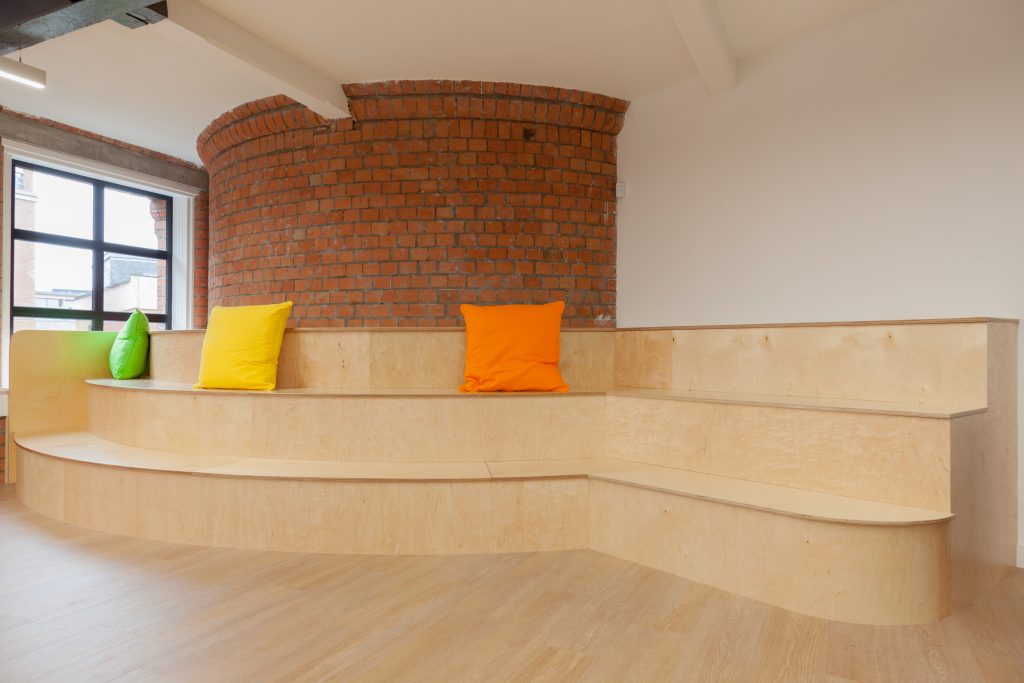 Photo Credit: Calibro
Disadvantages of Joinery
Design required
Joinery will require the help of an architect or interior design to create the concept and technical drawings which in some cases can take weeks to prepare and finalise. The designs are then shared with joinery teams for interpretation which can lead to opinions and missed information leading to incorrect installations in some cases.
Disruptive installation
A joinery firm will have to be engaged for the installation of a tiered seating installation that has been designed as a joinery piece.  This can cause disruption on-site, particularly where it's a retrofit or install in a working environment.
Permanent fixture
Bear in mind that if you design your tiered seating out of joinery, once it's installed it's a permanent, single-use construction. It will often be purpose-built and installed to dimensions of a space or wall, and therefore cannot be repurposed after installation. If you are likely to move or repurpose your space in the next 3-5 years joinery may end up an expensive option in the long run as it is a one-off expense.
Regulations
Whilst joinery is bespoke, and bespoke speaks of a design-led approach, joinery is also subject to building regulations in many countries, which can, unfortunately, require certain features (ie. Handrails, safety rails) that ruin the design intent.  This is something that would need to be considered at the design stage.
So, to recap and summarise:
Tiered/Bleacher seating built out of Joinery is great for:
Larger tiered-seating projects
Custom and/or integrated installations (ie. Built staging doubling up as a staircase)
Permanent installations
Design features include custom shaping and accessories.
Tiered/Bleacher seating built using a Modular Furniture System is great for:
Flexible solutions that can be multi-purpose
Smaller tiered seating projects (up to 4 tiers high)
Sustainable-conscious projects
Removable and reconfigurable installations (take with you if you move)
Fast and less-invasive design and installation process